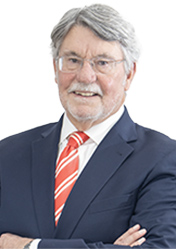 Government Affairs Advisor
Trenton
T:
973.848.5337
M:
908.406.1600
F: 973.297.3878
mmurphy@mccartergs.com
Michael Murphy
Formerly the Prosecutor of Morris County and a candidate for Governor of New Jersey, Michael Murphy has been involved in politics for more than six decades, since the first gubernatorial campaign of his stepfather, two-term New Jersey Governor and Supreme Court Chief Justice Richard J. Hughes. An early adviser to President Barack Obama's Democratic primary bid in New Jersey, Michael has repeatedly been named to Politicker's Power List as one of the state's "100 most politically influential personalities" and New Jersey Monthly has listed him in its "Power Issue" of the Garden State's most influential people.
Michael draws on his decades of political experience and connections with every level of government to advise clients on a full spectrum of government affairs matters, such as lobbying, advocacy, coalition building, strategic planning, communications, and business development. His clients operate in a range of industries, including healthcare, energy, cannabis, and education, and include non-profit and public sector entities.
Michael has held leadership positions in a number of New Jersey organizations and statewide commissions, including the Garden State Preservation Trust, which he chaired until resigning in 2014 when Governor Christie appointed him as the New Jersey Commissioner to the Waterfront Commission of New York Harbor. He currently serves on the board of the Community Foundation of New Jersey.
During the course of his career, Michael has been called upon to appear as a guest commentator for outlets such as CNBC, MSNBC, My 9, FOX, truTV, NJN, News 12 NJ, and others. He currently serves as a Visiting Associate at the Eagleton Institute of Politics, where he has also taught courses on lobbying and government affairs.
Education
Seton Hall University School of Law, JD
Georgetown University, BS
Harvard University, Kennedy School of Government, Senior Executives in State and Local Government Program
Memberships & Certifications
Fellow, American Bar Foundation
Member, Mercer County Bar Association
Member, National District Attorneys Association
Past President, New Jersey Prosecutors Association
Trustee, Crossroads of the American Revolution
Trustee, Community Foundation of New Jersey
Past Chairman, Garden State Preservation Trust
Past Chairman, Public Policy Center of New Jersey
Member, Board of Directors, D.A.R.E. New Jersey
McCarter Government Solutions, LLC is a subsidiary of McCarter & English, LLP. McCarter Government Solutions' services are not legal services and do not have the protections of a lawyer-client relationship. As a member of McCarter Government Solutions, Mr. Murphy is not practicing law.